📣 ❗❗️️ Daca subtitrarea nu porneste automat, apasati pe butonul CC de player si selectati limba (Romanian sau English).
📣 ❗❗️️ Dezactivati AdBlock pentru a functiona corect subtitrarile si pentru a vedea filme online si seriale online fara probleme.
📣 ❗❗️️ Daca solutia de mai sus nu functioneaza, va rugam sa ne scrieti pe e-mail la 📩 contact@filme-seriale.eu 📬.
Vezi Online: Serial Online: Kung Fu (2021), serial online subtitrat în Română: 2x6
Urmărește acum episodul: Jyu Sa
Data apariției la acest episod: Apr. 13, 2022
After a tip from Evan leads Nicky and Mia to a secret meeting between Juliette and a mysterious scientist, Nicky begins to question whether she should approach her relationship with Mia as a friend or a shifu. Elsewhere, Henry's findings lead him to an expert that may be able to help decipher his research. Finally, Jin and Mei-Li help to settle an age-old dispute between Chinatown's oldest grocers.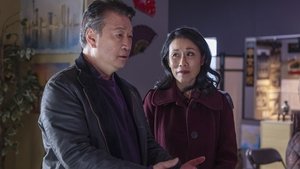 📌 Episoade disponibile Online